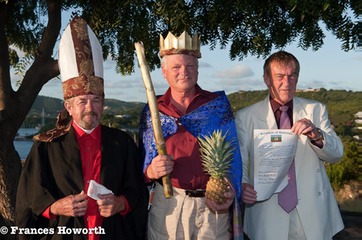 The island has had an intriguing run of monarchs, to say the least.
I am proud to be the current incumbent of the title
The 'title' of king of the island is not hereditary and instead is passed from one incumbent to another as a result of literary connections.
The kingdom of Redonda has become known across the world for its curious catalogue of eccentric monarchs. Bob the Bald my predecessor was no exception. King Bob, otherwise known as Robert Williamson, besides being a fellow writer and author of some note, was every inch a sailor.
Like King Bob I too am a sailor.  I started my life at sea having trained at HMS Conway a Merchant Navy Training School.
From there I went to sea serving with the P&O group sailing aboard their cargo ships container vessels and tankers. It was while serving aboard Mantua during 1969 that I first sailed past Redonda and learned of the kingdom.
Eventually I was promoted to serve aboard the famous passenger liners that included: 

Orcades

 

Himalya
Canberra
Oriana
Nevasa
Arcadia
Spirit of London
It was while working aboard these liners that I began to write successfully selling short stories to the Australian Women's Weekly magazine.
I left the sea to marry Frances and together we had two wonderful children. We ran a successful quick printing  business in London starting with one shop selling out when the total reached 14.  During that time I was a regular contributor to many of the specialist print and packaging magazines.
Our Lesiure time was spent yachting in the Mediterrean and around the coasts of the UK and northern France
We sold up home and business and sailed away in 1993 aboard Red Hackle a 60 foot ketch designed by German Frers.  By Christmas that year we had arrived in the Caribbean and had sailed past Redonda for the second time.
During that period of my life I was writing regularly for Yachting World Magazine a journal I have written for every month ever since.
Red Hackle became a much loved charter boat but as regulations began to change so my former Merchant Navy qualifications became valuable.
Frances and I sold our own boat and began working as Captain and Chief Stewardess aboard much larger Superyachts.
I served in command of

Giant
Shyraga
Atlantic Goose
Shergar
Alamshar
Samar
Saraffsa
During this time I wrote articles about superyachts for The Yacht Report and later Boat International and Dockwalk.
In 2007, when IPC chose to publish SuperYacht World Magazine and SuperYacht Business, Frances and I were recruited to write for them.
Now I write for magazines all over the world including:  Financial Times, Telegraph, most of the IPC Group Marine publications (SuperYacht World, SuperYacht Business, Super Sail World, Yachting World, Motor Boat & Yachting, Custom Yachting, and Motor Boats Monthly), On Board, Yachting Russia, Yachting USA, Ocean Magazine in Australia, Prestige in South Africa, Latitude One 15 in Singapore, Asia-Pacific Boating in Hong Kong, India Boating in Mumbai.
Frances and I consider ourselves a travel writing and photography team who specialise in Superyachts, small boutique cruise liners and ocean side resort hotels.  We are both members of the British Guild of Travel Writers and the Yachting Journalists' Association.
Yachts, travel writing, the Caribbean and in particular our love for Antigua and Barbuda as a holiday destination make me a good ambassador for the region and a highly suitable monarch of the island of Redonda
Long Live the King